Milton Crabapple is a member of the Atlanta Country Music Hall of Fame.  He is an actor, singer, songwriter, newspaper columnist and storyteller extraordinaire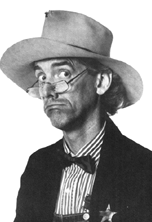 ire! 
Milton Crabapple began his career as a caller on The Ludlow Porch Show on WSB radio in Atlanta.  He has fast become one of the most popular and beloved humorists and storytellers in America. 
Milton is a regular guest on radio and television shows all across the country.  He is a regular guest on such as "O'Neill Outside", the popular hunting and fishing show seen by millions of viewers each week.  He can also be heard weekly on Saturday mornings on O'Neill's radio show on WSB in Atlanta.  Milton has also been featured in Country America Magazine!
If you would like to step out of the box and try something a little different for your next banquet or convention, you need to consider Milton Crabapple as your next keynote speaker.  He will leave your audience not only exhausted from laughter, but will make them all stop and take a close look at themselves and like what they see!  Milton is  wholesome entertainment……NO CRUDE JOKES….NO 4 cialis prix en pharmacie LETTER WORDS!  He's just crusty and cranky and tells it like it is…..in a fun way that your audience will love and appreciate.  It is Motivational Humor like no other.  Milton is available for bookings!
Hunting, Fishing, Doctors, Lawyers, Preachers, Religion, Hard Work…….it's all there.  Milton covers it all as he weaves his tapestry of colorful life in and around Crabapple, Ga. (A real place, by the way, and Milton is the Sheriff!)
Everyone leaves with a smiling face and that makes them happy and, if you are in charge of the meeting, it will make you happy too!